G3 LIFE APPLICATIONS BOARD OF DIRECTORS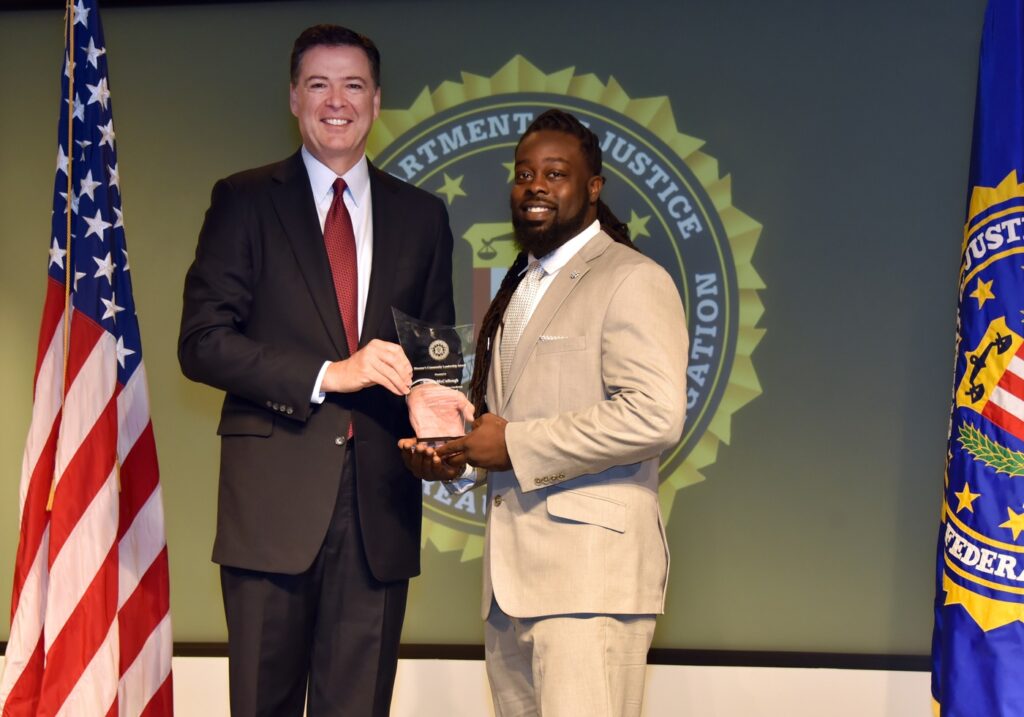 Ronnie McCullough
Chairman of the Board - CEO
QUICK FACTS:
Founder of G3 Life Applications
Program Coordinator for 2 years with Paxen Learning Corp
Earned a Football Scholarship to the Unversity of South Florida
Led all College Football players in Tackles with 149 in just 10 games – 2007
Played in the NFL and CFL
While playing for the Hillsborough Terriers from 1999-2002 Ronnie registered 3,041 career rushing yards with 40 touchdowns. He rushed for more than 900 yards and had 15 touchdowns as a junior. Also as a junior, he had a 28-tackle game vs. Chamberlain High School and he finished that season with 94 tackles, including 13 for losses, picking up first-team All-County honors. He was a highly recruited football player coming out of Hillsborough High School where he was ranked 22nd in the state by the Florida Times-Union and 30th in the state by the Orlando Sentinel during his senior year where he competed as a running back and linebacker. He earned Class 5-A All-State third-team honors on offense, despite playing in just six games due to a torn right patella tendon as a high school senior Despite missing the season opener his senior year of college against Jacksonville and most of the Norfolk State clash due to a fall camp hamstring strain, McCullough led the nation and set the school single-season record with 149 tackles (59 solos) … Led the Wildcats with five sacks for minus 36 yards and led the defense while ranking sixth nationally with 20 stops for losses of 65 yards … Three of his five pressures produced interceptions … Also deflected five passes … Had at least ten tackles in every game he played in, except vs. Norfolk State … Was named MEAC Player of the Week five times, including four-straight games, vs. Hampton, Morgan State, Winston-Salem, North Carolina A&T and Howard … Registered at least 20 tackles in each of the Morgan State, Winston-Salem and Hampton contests. He was named MVP of the Tampa Bay Buccaneers Rookie Mini-Camp. He also played professional football for the Canadian Football League's (CFL) BC Lions. After playing in the CFL he was an intern with the Calgary Stampeders in the Player Personnel Department. Ronnie has been featured in Sports Illustrated and has trained several NFL and collegiate athletes.
Ronnie McCullough is a founding member of G3 Life Applications and has more than twelve years of experience in athletics, entrepreneurship and training. McCullough has been employed with the Hillsborough County Public School System teaching Adult Ed and under-age GED for the past 5 years.
Josh Balloon
Vice President
QUICK FACTS:
Founding Member of G3 Life Applications
Adult education teacher for Hillsborough County School Board
Earned a Football Scholarship to the Unversity of South Florida
Joshua Balloon Sr. is a founding member of G3 Life Applications. He is a Tampa native that graduated from Thomas Jefferson High School, with both academic and athletic scholarships offers from numerous universities. He chose to attend the University of South Florida where he played football and earned an Associate's degree and communications. He then transferred to Bethune Cookman University where he continued to play football and graduated with his Bachelor's degree in communications. During his time in college he started volunteering in various communities, outreaches, as well as hospitals.
Mr. Balloon's professional career started as a pain consultant with arthritis pain solutions. Where he consulted and evaluated clients for specific (DME) durable medical equipment products. He also performed community outreach educational workshops, health fairs, and marketing events, as well as schedule appointments. From there Joshua began working as a youth camp counselor at Sulpher Springs Elementary with the YMCA. As a youth camp counselor he provide leadership and guidance for each group level daily, and coordinated the curriculum's for the general summer camp programs.
Mr. Balloon went on from being a camp counselor to a substitute teacher at Thomas Jefferson high school, for the School District of Hillsborough County. As a substitute he provided continuity of instruction, maintain classroom control, provide honest feedback to the regular teacher, and supplement the daily program, when necessary, with innovations. Joshua is currently a lead teacher for the school district and has worked at Chamberlain Adult, Middleton High school, Metropolitan Ministries, and the Hope learning center.
QUICK FACTS:
Founding Member of G3 Life Applications
Former President of the V.M. Ybor Civic Association for 10 years
More than 15 Years of Non-Profit Expeience
Carrol Josephs-Marshall is the President/CEO of Central Florida Community Planning and Development (CFCPD). Carrol has more than 10 years working at the executive level of multiple non-profit corporations and brings vision and experience gained during her time as an owner and manager of investment properties, Real Estate Developer, Notary Public and Certified Notary Signing Agent. Her progressive experiences have enabled her to create a program/venue to assist entrepreneurs and help guide start-up companies, micro-enterprise companies and small businesses as they grow. These programs also help medium-sized companies that are looking to expand exponentially. She has also assisted in the development of a youth entrepreneurship which gave local teens the opportunity to start a business using the skills they learned while being guided and mentored. She has been active community Liaison, representing the community residents' in the City of Tampa 1990 to present.
Trichina Pierce
Treasurer
QUICK FACTS:
Practicing Attorney
More than 10 years of business & risk management experience
Sitting board member of multiple non-profit organizations
Trichina Pierce has been the compliance manager and associate counsel at the Carolinas Credit Union League since 2014. In her role, she works closely with member credit unions to help them meet a wide range of compliance needs, delivers compliance training, and supports departmental projects. She has more than a decade of experience in training and counseling in the financial & investment arena.
Trichina is a member of the S.C. Bar Association and has a Juris Doctor (JD) from Thomas M. Cooley Law School, an LLM from Stetson University Law School, and a master's degree from Capella University. She is active in her local community and a recent outreach achievement included assisting in the development of a local community center.