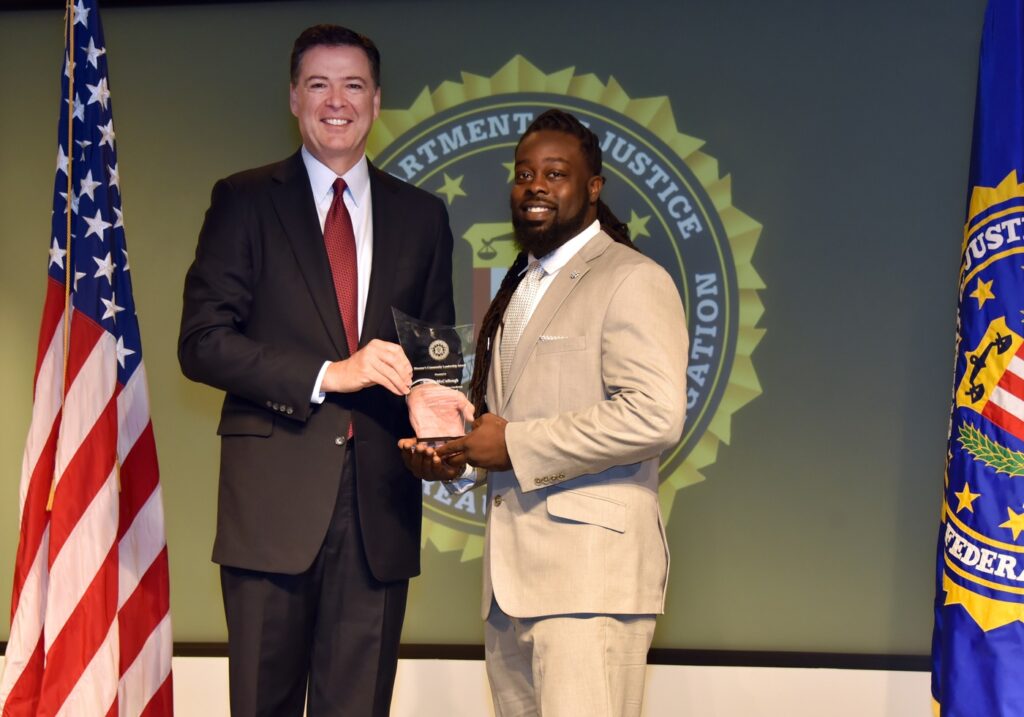 Ronnie McCullough
Founding Member
QUICK FACTS:
Founder of G3 Life Applications
FBI's Director of Community Leadership Award Winner (City of Tampa) 2016
Hillsborough High School Football Hall of Fame Inductee 2017
Program Coordinator for 2 years with Paxen Learning Corp
Earned a Football Scholarship to the University of South Florida
Led all of College Football in Tackles with 149 in 10 games – 2007
Played in the NFL and CFL
While playing for the Hillsborough Terriers from 1999-2002 Ronnie registered 3,041 career rushing yards with 40 touchdowns. He rushed for more than 900 yards and had 15 touchdowns as a junior. Also as a junior, he had a 28-tackle game vs. Chamberlain High School and he finished that season with 94 tackles, including 13 for losses, picking up first-team All-County honors. He was a highly recruited football player coming out of Hillsborough High School where he was ranked 22nd in the state by the Florida Times-Union and 30th in the state by the Orlando Sentinel during his senior year where he competed as a running back and linebacker. He earned Class 5-A All-State third-team honors on offense, despite playing in just six games due to a torn right patella tendon as a high school senior Despite missing the season opener his senior year of college against Jacksonville and most of the Norfolk State clash due to a fall camp hamstring strain, McCullough led the nation and set the school single-season record with 149 tackles (59 solos) … Led the Wildcats with five sacks for minus 36 yards and led the defense while ranking sixth nationally with 20 stops for losses of 65 yards … Three of his five pressures produced interceptions … Also deflected five passes … Had at least ten tackles in every game he played in, except vs. Norfolk State … Was named MEAC Player of the Week five times, including four-straight games, vs. Hampton, Morgan State, Winston-Salem, North Carolina A&T and Howard … Registered at least 20 tackles in each of the Morgan State, Winston-Salem and Hampton contests. He was named MVP of the Tampa Bay Buccaneers Rookie Mini-Camp. He also played professional football for the Canadian Football League's (CFL) BC Lions. After playing in the CFL he was an intern with the Calgary Stampeders in the Player Personnel Department. Ronnie has been featured in Sports Illustrated and has trained several NFL and collegiate athletes.
Ronnie McCullough is a founding member of G3 Life Applications and has more than twelve years of experience in athletics and training. McCullough has been employed with the Hillsborough County Public School System teaching Adult Ed and under-age GED for the past 5 years.
Joshua Balloon
Founding Member/Program Coordinator
QUICK FACTS:
Played in two Class 4A Florida Football Championship Games
Was named fist team all state in Football for 2002
Earned a Football Scholarship to the University of South Florida
Joshua Balloon is a founding member of G3 Life Applications and an Adult-Education teacher, as well a tutor for grades K-12 students. He has ten years of athletic training with various sports such as; football, basketball, track, and weight training, ranging from 5 years of age to seniors within the community. He is experienced in personal and physical training and has worked and participated in various football camps within the state of Florida. From 2003 – 2008 he was a student athlete for two different University (USF, BCU) University of South Florida, Bethune-Cookman University in the sport of football. During the 2002-03 school year he received the Coca Cola Scholar Student Athlete of the year award, and was ranked within the top 20 athletes in the state at the linebacker position. He was a member of (NHS) National Honor Society in high school and graduated from college with a Bachelor's Degree in Communications. Currently he volunteers with the Hope Learning Center and the Metropolitan Ministries, as well an affiliate with (FCA) Fellowship of Christian Athletes.
Garnell Wilds
Football Specialist
Garnell Wilds is a former National Football League Defensive Back for the Washington Redskins and Carolina Panthers. His football prowess was honed at Hillsborough High School in Tampa where he was a highly touted recruit where he helped the Terriers get to the Florida State 6A Championship Game as a sophomore. By his senior year he was rated the No. 12 prospect in Florida and No. 48 nationally by The Tampa Tribune; No. 48 player in Florida by SuperPrep; No. 96 player in the Southeast Region by Tom Lemming's Prep Football Report and the No. 28 defensive back in the ACC Region by ACC Area Sports Journal. He was also a postseason All-America selection by PrepStar, a preseason All-America pick by Lemming and All-Southeast Region team by The National Recruiting Advisor. He then chose to play collegiately at Virginia Tech where he was a starter and helped other team leaders Michael Vick and DeAngelo Hall lead the Hokies to the 2000 Sugar Bowl where they played the Florida State Seminoles for a National Championship. Unfortunately they lost that game, but he along with some of his other teammates were fortunate to fulfil their dreams and ultimately play in the NFL. Since he concluded his professional football career he has brought is talents full circle by deciding to come back to Tampa and become Defensive Back Coach at Middleton High School.
Coisge McCullough
Engineering Specialist
Coisge McCullough was raised in both Tampa, Florida and Compton, California. He graduated from Florida Atlantic University with a Bachelor's of Science in Computer Science and Engineering and is currently a member of the National Society of Black Engineers. For the past 9 years he has been an engineer of computer science where he has worked in a myriad of fields like; financial services, auto insurance, spyware, hospitality, identity management, weapons simulation, and gaming industries. He has also excelled at entrepreneurial ownership with the following organizations to his credit; Colbert Ball Tax Service – Majority Owner, Jan Pro Commercial Cleaning Service – Co-Owner, BMC Corporation – CEO and Tampa Bay Liquid Semi-Pro Football Team 2009 – 2011. Coisge is actively involved in his community through youth sports where he has coached youth football for 6 years winning multiple championships. He has also coached High School athletes as an offensive coordinator with the football team and as a sprinters coach on the track team.